​Dig deep, be patient, and let things happen'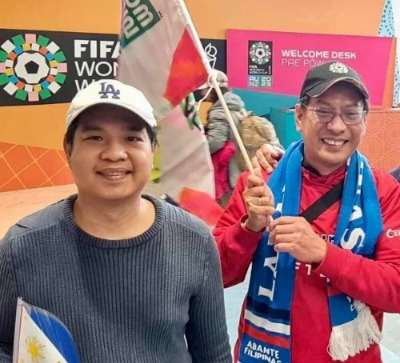 A technology executive did not hesitate to approve the request of a staff member to take time off for three weeks to work with a community in India. "Go for it," the executive said. "You will learn so much."
Today, knowledge workers across sectors take on advocacies - whether related to their field or outside of work - as they seek to tackle issues and concerns in an ever changing landscape. So how can organisations work around this dynamic?
Carlo Espejo, a design professional in Auckland, shares his experience in this endeavour - as a 'community champion' for the Filipinas team at the FIFA Women's World Cup 2023. It was the first time the national team from his native Philippines competed in the world cup co-hosted by New Zealand and Australia.
"We immediately went to work promoting Team Filipinas and did not stop until we had our final group stage match on 30 July 2023," says Carlo, an estimator for Fairview Alicom.
"We are still on a high after the historic run of the Filipinas Football Team in the World Cup," he says. "The attendance of Filipinos at Eden Park, pegged at around 34,697, is the most in any Filipino sports activities in New Zealand."
It was not Carlo's first experience in community campaigns, but he stepped up his advocacy work when he and his family moved to New Zealand in 2009. Before this, he was a senior trade industry development specialist in the Philippine Department of Trade and Industry – Center for International Trade Expositions and Missions (DTI CITEM).
In Auckland, Carlo noticed his Kiwi colleagues often have little awareness of the Philippines. Moreover, the country was most likely in the news only when it was hit by natural disasters such as a typhoon, or embroiled in criminal and political scandals. "That was when I started thinking about my advocacy of building bridges and creating people-to-people connections for Kiwis and Filipinos alike."
He spoke to Kiwi entrepreneurs and recommended trade shows organised by DTI CITEM. But it was another arena - sports - that Carlo found his calling. He realised this while helping a community group promote Filipino athletes competing in New Zealand. The group, for instance, arranged the Gilas Pilipinas Men's Basketball Team to get a closed door scrimmage against the Tall Blacks in 2013.
He got involved in the FIFA event through the sports advisor at the Asia New Zealand Foundation. "We were talking about utilising sports as a connection to both New Zealand and the Philippines when she suggested that I should have a look at the upcoming Women's World Cup." That was in April this year.
He joined other 'community champions' to distribute flyers and set up booths in various events to build support for the Philippine national football team. The Philippine team got a massive welcome at the Auckland airport. Fan marches - with people waving flags and wearing traditional attire like in a fiesta - were held before the games in Wellington and Auckland.
So what lessons can he share for those embarking on community advocacies? First off, "it needs a core group and a complete team and supporters to mount such a huge campaign," says Carlo."Create a core team complete with the specialised skills that you will need as you move forward and one that you can build a solid foundation from."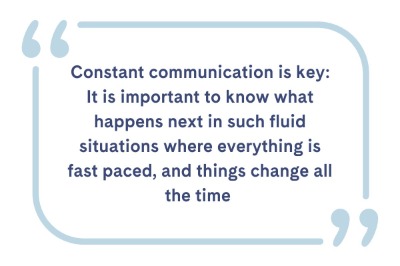 Constant communication with various parties involved is key. "It is important to know what happens next in such fluid situations where everything is fast paced, and things change all the time."
Being pragmatic helps. "Not everything that has been planned can be executed, and not all plans can be executed well," he states. "Dig deep, be patient and let things happen."
These insights certainly apply to situations teams face in the workplace, whether face-to-face or in hybrid/flexible mode.
Indeed, Carlo's experiences and those of other professionals doing volunteer work highlight how organisations can encourage staff to embrace advocacies where they can learn new skills and create connections. This openness resonates with migrants, new graduates and those new to the industry. These activities can help staff be more engaged and loyal with the company amid skill and labour shortages across sectors.
As well, those active in advocacies need to show their respective organisations that their campaigns will not affect their performance at work. They can also share their experience with management or human resources, and write about it in internal publications. When this happens, both sides learn - and benefit - from a dynamic workforce.
​Divina Paredes is a New Zealand-based writer interested in #ICTTrends #Tech4Good #DigitalWorkplace #Data4Good #Sustainability #CivilSociety #SpecialNeedsCommunity #SocialEnterprises

Reach her on Twitter: ​@divinap
Photos:
Carlo Espejo (right) and Henry Lobo are 'community champions' for the Filipinas team at the FIFA Women's World Cup 2023 (Courtesy of Pilipinas Women's Football NZ)
Cheering fans at the FIFA Women's World Cup in Eden Park (Courtesy of Pilipinas Women's Football NZ)